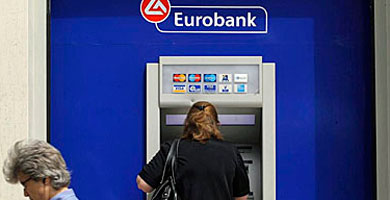 Greek President Karolos Papoulias warned a few days ago. With the approaching of the Sunday election, the Greek people may panic feel isolated and helpless. Because the election may mean that Greece will withdraw from the euro zone. Now his predictions becoming a reality.
Face of election uncertainty and rumors about Greece will re-use the drachma
(translators: the currency circulation of Euro, Greece)
(to participate in the election all political parties, only a minority party Communist Party of Greece drachma re-circulation), and fear occupy the heart of most of the Greeks.
In fact, the Greeks like crazy like is money from the bank. According to bank data released today by the Greek media, a day to remove the funds of $ 100 million to 500 million euros. Be removed only in May last capital sum reached 5 billion to 6 billion euros.
Sunday before the election, the concerns of the people is increasing. According to opinion polls show the election's outcome is still uncertain, this will be the conservative New Democratic Party (support for fiscal austerity) and radical left-wing coalition of parties (the commitment of the political parties took office the first thing is to abolish the EU and the IMF life and death battle between the policy of austerity on the Greek).
It has been calculated, since the financial crisis of 2009 onwards, the Greeks has been removed from their own bank accounts of 80 billion euros. Greece's rich people own most of the funds transferred to Switzerland or to invest in real estate in London and New York.
Many middle class put their savings hidden under the pillow or beneath tiles. The direct impact of the financial crisis possession beyond Tibet: the only remaining point has long been the financial crisis, this beast has swallowed.